FAQs
Frequently Asked Questions
Atlanta bankruptcy lawyer Howard Rothbloom answers client questions about the bankruptcy process.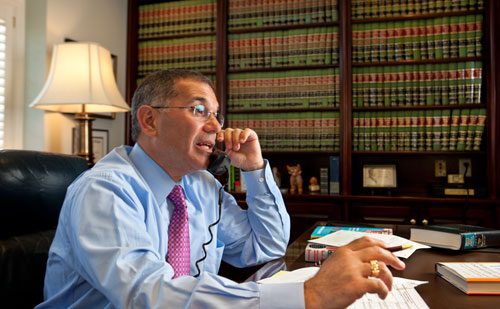 Q: 

On what basis does a person decide to file for bankruptcy?
"Bankruptcy law brings order to financial disorder."
A: A client once said to me, "When you owe more money than you can afford to pay, you feel as if your life is threatened." The stress associated with financial problems can manifest itself emotionally and even physically. Bankruptcy is a means to alleviate this stress and its many effects.
Whether a person should file for bankruptcy is sometimes very clear. In other situations, there is no right or wrong answer; it's a personal decision. A person's decision to file for bankruptcy should be based upon what is in the best interest of their own well-being -- their physical and their mental health -- because everything flows from that: the well being of their family, the strength of their relationships, their work performance and ability to earn a living, and their happiness. Not every person's well being would be enhanced by filing for bankruptcy, but for some, it will be, and for them, bankruptcy is the best option.
Clients often say, "I am not like others who file for bankruptcy; I have tried hard to pay my bills." Well, my response is the same to each client: "Actually, you are exactly like others who come to see me about filing for bankruptcy. My clients are honest, decent, hard-working people who have suffered some misfortune." It is a myth that bankruptcy is for people that don't want to pay their bills. Bankruptcy law brings order to financial disorder; it protects the rights of people who are unable to pay their debts... the honest but unfortunate debtors. Bankruptcy affords people an opportunity to get back on their feet and to live good, productive lives. Bankruptcy is not the problem, it is the solution.
Q: 
What happens when a client first contacts the firm?
A:The client speaks with me. After a brief discussion to determine whether the firm's services are appropriate for the circumstance, an appointment is scheduled and we request that the client complete the questionnaire on our website and gather certain documents so that our initial meeting will be most productive.
Q: 
What does "personalized bankruptcy" mean?
A:We take the time to analyze each client's situation, to counsel and advise them and to achieve the results that we have discussed.
"Our clients know who they are speaking with when they call with questions about their cases."
Our clients know who they are speaking with when they call with questions about their cases. Clients' matters are handled by the firm's experienced professionals. Working together, our lawyers and our and paralegals strive to treat clients in the way that we would want to be treated ourselves: with personalized attention and care.
Personalized bankruptcy is thoughtful counseling, careful planning and creative lawyering.
Q: 
So, in addition to personalized care, why should a client choose The Rothbloom Law Firm for representation in a bankruptcy case?
A:Our attorneys and staff have the training, technology, and experience necessary to overcome the many challenges presented by today's cases. The challenges have grown and are constantly evolving since the bankruptcy law change in 2005 imposed stricter eligibility standards on consumers seeking relief in the bankruptcy court.
"Today, bankruptcy law practice is complicated. To be most effective, a lawyer must be a specialist."
Today, bankruptcy law practice is more complicated than ever before. To be an effective advocate, a lawyer needs to be a specialist. In the past, a general practitioner could handle bankruptcy law along with family law, criminal defense, and real estate. Those days are gone for good.
We have been handling bankruptcy cases since 1986. Because we focus on providing the highest quality in legal services to clients, clients receive personalized, professional advice and advocacy, along with an exacting attention to detail.
Q: 
Do you actually embrace the challenge of resolving complicated, unique and borderline consumer bankruptcy cases?
A:We do. We often handle cases that need more intensive care and attention. For example: upon quick review, a client may find that she does not pass the means test to qualify for chapter 7, a "straight" bankruptcy. We take the time and give the necessary attention to detail to enable a client to pass the means test who might not otherwise pass. Moreover, we work hard to identify and resolve potential complications in clients' cases in advance of filing the cases with the court. Sometimes, complications are avoidable and sometimes they aren't. But careful planning helps to minimize or eliminate these complications after the cases are filed.
"We work hard to identify and resolve potential complications in clients' cases in advance."
Our lawyers have the credentials to make us effective. I received a Bachelor of Arts degree (A.B.) in 1981 from the University of Georgia and a law degree in 1984 from the University of Georgia School of Law. I am frequently called upon to speak to lawyers at bankruptcy law seminars. Additionally, I am pleased to be an AV® Preeminent Peer Review Rated attorney in 2011 for the very highest ethical standards and legal ability based on the confidential opinions of other lawyers and judges. This is an honor given only to a small percentage of America's elite lawyers.