Our Story
Thoughtful Counseling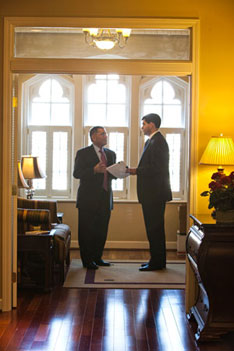 Howard Rothbloom has listened to the stories of thousands of clients who have sat with him in his comfortable office at the century-old Marietta Square just north of Atlanta. They are stories of fear, of guilt, of regret, of uncertainty and of anguish. And they are never easy stories for people to tell; each story is intensely personal.
"A client once said to me, 'When you owe more money than you can afford to pay, you feel as if your life is threatened,'" says Mr. Rothbloom, his steady tone evoking calm and a measured approach to his work. "What we do relieves the pressure and stress. Too much debt can impact a person's physical and mental wellbeing and threatens the loss of home and family. These are not bad people; they have suffered some financial misfortune, sometimes as a result of poor planning and bad decision making, but more often because of unfortunate circumstances."
"When you owe more money than you can afford to pay, you feel as if your life is threatened."
"Clients often say, 'I am not like the typical person who files for bankruptcy.'" Yet there is no one typical person who files for bankruptcy, Mr. Rothbloom asserts. Dressed in a crisp, white dress shirt and tie on a hot Georgia summer afternoon, the law firm he began twenty-five years ago is winding down at the close of a busy week of handling bankruptcy cases for those many typical people - members of the community, members of families, members of prestigious businesses and professions. It's quiet, except for the sounds of colleagues filing away the week's work and traffic humming on the street outside. Leaning back in his chair surrounded by a wall of law books, photographs, artwork and mementos from his world travels, and his Eagle Scout award, Mr. Rothbloom takes a moment to consider the past two and a half decades of his work. He recalls the many people that he has helped, all the work that he has done to end the harangue of sometimes merciless collectors and alleviate the pressure of crippling debt.  
"My favorite part of practicing law is counseling people," he says. "The most important part of what I do is behind closed doors, with just one or two people sitting with me. I am taking my knowledge about bankruptcy and applying it to people's problems, coming up with solutions and then implementing them.  These problems are all about money, or, I should say, the lack thereof; and these are problems that can be fixed."
Lifting a Burden
Howard Rothbloom graduated from the University of Georgia and its prestigious School of Law. As a young attorney working on a variety of cases, one day in 1986 he was presented with a new opportunity.
"The ability to use the law to bring a swift and definite resolution to a client's troubled financial situation intrigued Mr. Rothbloom."
"An attorney in the office said that he had a client coming in that needed to file for bankruptcy, and this attorney asked, 'Do you want to help her?'" he recalls. "I prepared that first case on a typewriter, using carbon-paper forms." He still has the yellowed file and dog-eared papers in the credenza behind him. The ability to use the law to bring a swift and definite resolution to a client's troubled financial situation intrigued Mr. Rothbloom. His sensitivity and compassion for others - qualities many people don't associate with attorneys - were touched. "It was fascinating to be able to simply talk to a person and be able to lift her burden."
In the Nineties, Mr. Rothbloom became both locally and nationally known for representing often low-income and powerless clients in high-profile lawsuits against national banks, but in recent years, his focus shifted firmly to building a boutique practice solely devoted to bankruptcy representation. In the past decade, his practice grew, and he not only added key staff members, but established a spacious, well-lit suite of offices in downtown Marietta's busy business and arts district. While recent economic troubles have more people considering bankruptcy, the firm's business has steadily built over the years.
"People come to see us in good economies and in bad economies. The only thing that changes is the reasons why they come," says Mr. Rothbloom. "People will always have difficulties with money. In good times, people may be allowed to borrow too much money. In bad times, the income isn't there to pay for the things they acquired when times were good. I'm never happy to see people having problems; I'm just happy that people who are having these problems come to us to help them resolve them."
"Our process involves several layers of quality control. We expect that nothing gets out of this office that isn't perfect," says Mr. Rothbloom, who prides himself on his attention to detail and staying calm in any situation. "Our approach is to anticipate all the issues that might arise before we file a case. It's very rare that we have issues arise that we didn't anticipate. It's very common that we anticipate problems that never arise. But sometimes issues arise in a case that we can't avoid by planning. A creditor could oppose us, or a trustee working for the government could oppose us.  Only so much of that process can be controlled. But with our experience and knowledge, our clients can rest assured that we know how to navigate these waters; no issue can arise that we aren't prepared to deal with."
"I Never Thought I'd Be in This Situation"
Bankruptcy often becomes the best option when an individual or a business accumulates so much debt that any money available to pay that debt, if there is any at all, can merely chip away at a mountain that has come to overshadow their lives. Business assets, real estate, personal possessions - all are threatened due to the debts they owe. Yet bankruptcy remains, unfortunately, stigmatized in our society. People come to their first appointment with some trepidation, even embarrassment, notes Adam Herring, the firm's other lawyer.
"Bankruptcy often is the wise option. Sometimes, there is nothing else you can do about it."
"Almost everyone who comes in says, 'I never thought I'd be in this situation,'" says Mr. Herring, a graduate of the University of North Carolina at Chapel Hill and of Emory University School of Law in Atlanta. Calm and poised, Mr. Herring exudes the same measured confidence as Mr. Rothbloom when it comes to reassuring their clients. "We provide a level of comfort. I tell them that they are not the first people who have been in here in this situation or in bankruptcy."
Since the global economic turmoil and real estate market collapse of 2008, more formerly prosperous individuals in the metropolitan Atlanta area where the firm operates have declared bankruptcy due to those unforeseen calamities; homes are worth less than the mortgages on them, businesses are struggling with deteriorating markets, credit cards and credit lines are maxed out. If a child becomes ill or a marriage crumbles, or if the mountain of debt just becomes too high to scale, bankruptcy often is the wise option, says Mr. Herring. "Sometimes, there is nothing else you can do about it."
"It's difficult for people to reinvent themselves at 40 or 50. But we're giving them some space where they're not being sued by credit card companies, or where they lose their house. We put people in a position where they can pay their living expenses, and even pay their mortgage if possible. And if it doesn't make economic sense for them to be in their house anymore, we'll tell them," he says. "It's important to be candid."
In mild contrast to Mr. Rothbloom's more philosophical take on their work, Mr. Herring cuts to the heart of the matter. Bankruptcy should be seen as a tactical move to ensure a smoother path in the future, he says. "Our short-term, technical goal is to reduce or eliminate as much debt as possible at the lowest cost to the client."
Personalized Bankruptcy
Many staff members at The Rothbloom Law Firm have been around for a while. Their experience contributes to the confidence of the team. They've been there before and understand how to handle almost any situation. Like her colleagues, paralegal Silvia Lachenberg enjoys working at a firm that focuses so diligently on each client and has such high standards of dedication.
"People who come here may be unsure, scared about their future, but we put them at ease," says Ms. Lachenberg, who started working with Mr. Rothbloom in 1991. Her office is cozy, but like others in the building, is  warm and inviting, decorated with framed artwork and photographs. "I think that's how Howard set the firm up. Sometimes clients are at such a point that they're in a mess, so we try to be specific about what we need. We are clear. Nobody leaves here without knowing what to expect."
"Clarity puts people at ease," Mr. Rothbloom says. Pausing, he thinks for a moment, and then reveals the one important assurance he gives some clients. "This is what I tell them: 'I've told you everything you need to know and everything that you need to worry about. If I haven't told you that you need to know it or that you need to worry about it, then you don't need to know about it or worry about it.'"
"People who come here may be unsure, scared about their future, but we put them at ease."
Along with her colleagues, Ms. Lachenberg stresses that The Rothbloom Law Firm is about values, ethics, and integrity. She clearly lauds the firm's founder, whom she knows so well, for setting this high tone for their collective work. "This just puts him in a different class. It's the specific focus on bankruptcy too, I think. Since that is all we do, we're pretty knowledgeable. Dena Hudson [the firm's other paralegal] and I can answer almost any question a client has. Everyone feels comfortable. Clients don't leave here feeling ashamed. Bankruptcy is just a part of life. It's a process. We want them to feel at ease and comfortable with their decision."
To each member of his firm, Mr. Rothbloom stresses a concept he calls personalized bankruptcy. What does this mean, exactly? He describes it as a personalized approach to each client and each case, through thoughtful counseling, careful planning and creative lawyering. Mr. Rothbloom, Mr. Herring, Ms. Lachenburg, Ms. Hudson view each client and each case as unique. There is no cookie-cutter approach, although almost every case presents situations and challenges that are very familiar. No case is rushed through the process. No client is ignored or pushed to make a decision, because bankruptcy affects a person's life so intimately, says Mr. Herring.
"We handle each of our cases personally, even routine matters," he says, leaning over his desk to emphasize the point that at this firm, a personal, creative, thoughtful approach and deep knowledge of the law translates to success for their clients. "We owe our clients our personal attention. We keep up with all the trends and issues. Our staff is highly trained and most have had long-term service with the firm. We make sure that everyone here is well-trained, so they can recognize red flags."
"Mr. Rothbloom stresses a concept he calls personalized bankruptcy: A personalized approach to each client and each case, through thoughtful counseling, careful planning and creative lawyering."
Ms. Lachenberg describes the firm where she's worked for most of her career as a "well-oiled machine." However, that doesn't mean that every case isn't given highly personal attention. It just means that these guys know what they're doing. "We are very efficient. Going to a firm that is a 'mill' will not give them the thorough attention to detail that they need. Here, you can always speak to your attorney. You'll always reach someone if you call. I mean, it's nice to be able to speak to someone live! Because of our attention to individual outcomes, we try our best to give our clients the best result possible. And we won't push someone into bankruptcy if it won't help them."
The Process
Bankruptcy still mystifies many people - they don't want to think about it so they don't know how the process can help them; and it's become a more challenging process since 2005, when laws changed to make it harder for people to qualify for bankruptcy says Mr. Herring.
A bankruptcy lawyer's job is to either wipe out the client's debt through a chapter 7 "straight" bankruptcy or restructure it in a way that's affordable through a chapter 13 repayment plan, he says. Before clients come to the office for their first meetings with their attorney, they're informed as to what documentation they need to gather in order to make a solid assessment of their situation and their options. In chapter 7, a debtor is not required to repay their debts, although Mr. Herring notes that some kinds of debt, such as most student loans and some taxes, cannot be eliminated outright. In most cases, the first step is to assess the
"Planning and timing are critical aspects of this process."
client's current financial situation and to apply a means test to determine if he or she is eligible for chapter 7 bankruptcy. "That's more of a problem with higher-income clients," states Mr. Herring. "There is no absolute bar. But what we're doing is making sure that we capture all of the variables" to determine if a client may qualify for chapter 7. If they do qualify for chapter 7, the client's debts are likely to be wiped out and the case is likely to be finished within four months. Other clients may need to file a chapter 13 bankruptcy, where they have to pay all or part of their debts over up to five years. In these cases, the firm works to make sure that the payments clients are required to make are as low as possible and provide as much benefit as possible.
Then the attorneys assess whether or not it's time to file for bankruptcy - or to wait. "Planning and timing are critical aspects of this process."
"We use the law as a shield to protect vulnerable people," says Mr. Rothbloom. Indeed, protecting clients from "forces bigger than they are" is the core business of the firm. Yet he, and all of his staff, remain humble, although they're in awe of the impact of their work day after day.
"I really believe this - I'm basically a nobody with a license to practice law; I'm not a politically powerful or a wealthy person," says Mr. Rothbloom. "Yet I am able to protect the ultimate powerless people from the ultimate powerful companies on the planet - banks. So what we are able to do is extraordinary. I've brought down a bank before... for poor people! Where else could you do this? It puts wind in our sails."
Experience, Reputation and a Certain Level of Sophistication
In the last few years, the firm has invested in the latest technology and training for staff so it is poised to offer clients the best possible service. They've chosen to remain small and focused on bankruptcy, rather than expanding into other areas that could be profitable in the short term but hurt their ability to maintain their standards of excellence. "At this firm, you not only get our experience and our reputation, but a certain level of sophistication. We keep up with all of the changes. We hone our skills constantly. We hire good people," says Mr. Rothbloom. "My people know how to handle a case from beginning to end, and they know how to think."
"Most of the nightmare stories people have heard about filing for bankruptcy are nightmare stories about how lawyers handled their filing for bankruptcy. The process is only difficult when it's done wrong," says Mr. Rothbloom. With a mixture of pride and humility, he emphasizes that his small staff handles an ordinary consumer bankruptcy case with as much care and professionalism as a silk-stocking firm in downtown Atlanta would handle it - if they handled it. "We don't turn anybody who needs us away. We make it work for people," he says. "I wouldn't practice law any other way."
-- Susan Bernstein